Identifying Garage Door Spring Issues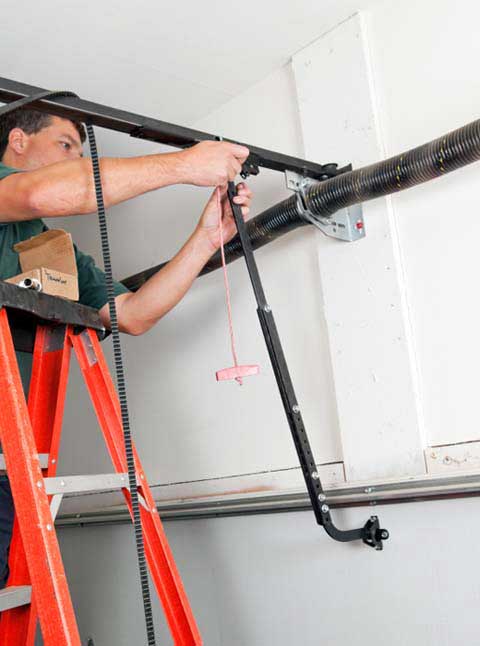 Newnan, GA, homeowners should be able to trust that their garage doors will work. For the most part, you are unlikely to be faced by many issues. But that does not mean that components are completely devoid of damage. Parts may break because of wear and tear, or may become damaged for any other reason. If that happens, you should contact a professional garage door repair service right away.
For this post, we will focus on one of the most common types of garage door damage: broken or malfunctioning springs. These can leave you with a garage door that is highly unsafe and unreliable. The springs are the support mechanism for your door, meaning that the damage will leave you with an unstable door that can get stuck at any moment.
Needless to say, handling broken springs is a dangerous task. Trying to perform repairs yourself, without the right tools and training, can easily lead to personal injury. That is why we strongly recommend that Newnan, GA, residents contact a professional as soon as the damage occurs, so that a technician can conduct the most appropriate repairs in the safest possible manner. A reliable technician is certain to be on-call 24 hours a day, 7 days a week, to handle urgent repairs like these. So don't put your property at risk because of a broken spring – make sure to get the problem sorted right away.
Now we talked a bit about risks of spring repairs, let's move on to look at the different types of springs, and some of the sure signs of spring issues.
All you need to know about garage door springs
There are two main types of garage door springs, torsion and extension. Both of these are tightly wound to your garage door, though you will find them installed in slightly different places. Torsion springs are attached above the door, whereas extension springs are attached above the upper tracks on both sides. Extension springs will also have safety cables, attached from the ceiling, running through them in order to help control the opening and closing of the garage door.
For the most part, garage door springs are extremely resilient and durable. You are likely to not experience any issues with them unless they are becoming worn out from extensive use. These springs are under a lot of stress as their primary functions are raising and lowering the door, meaning that wear and tear is the most common cause of spring damage.
Spring replacements should be part of your garage door maintenance. Keeping a watchful eye on the components that make your garage door fully operational, and getting a certified professional to get things back on track when required, will help you keep your home safe in the long haul. If your Newnan, GA, garage door has two springs, you should replace them both in order to prevent further damage. This will also ensure that your garage components continue to be in great working condition.
Identifying the damage
Finding out whether your issues are caused by a broken spring can be a bit tricky. A professional repairman in Newnan, GA, should be able to come and inspect any damage and detail the best fixes for it. In saying that, there are some signs that your garage door needs to be looked at by a professional.
The smooth opening and closing of a garage door should indicate that everything is functioning properly. If you begin to experience any issues opening and closing the door, check if it persists when you try to open it manually. You can to this by pulling the cord attached on the side. Persisting issues may mean that your garage door is out of balance, which could in turn mean that one of your springs has broken off or has become loose.
Noise is another indicator of damage, though it can be deceiving. A little squeak may just mean your door's springs may need a bit of oiling. Louder, more unusual noises can be a sign of spring malfunction. So, if your garage door unexpectedly becomes noisier, get a Newnan, GA, based professional to come and inspect the components for you.
What can a professional technician do?
We have continued to reiterate that garage door springs should be handled by trained professionals. But expertise is only one part of the reasons why you should rely on garage door technicians.
Professional repairmen will have everything that is needed to take on all repairs right on arrival. Being fully equipped with all the right tools and components is also the reason why they are able to offer 24/7 repairs for garage door issues.
You can expect repairmen to come to your Newnan, GA, property in a truck loaded with springs of various sizes and types, and equipment to measure, repair and replace broken or malfunctioning springs. Different garage doors may have different types of torsion or extension springs, which a technician will most likely have handy in their inventory. If they need to order any extra parts, they will be able to tell you as soon as they inspect the damage.
You can always count on your technician to provide you with a price quote upfront after this inspection, prior to them taking the next steps. A great repair service in Newnan, GA, is concerned with customer satisfaction, and will try to provide you with all the information that you need about the issues you are experiencing and the best repairs for them. If you are happy with the verdict, they will proceed to do the job.
Professional spring repairs can be quite quick, depending on the issue. At most, it may take a few hours to remove any broken or damaged springs. But once that is out of the way, repairs, replacements and installations should only take a few minutes. Newnan Garage Repair is a good place to call for assistance in the area.